ACNE is a chronic inflammatory skin disease capable of responding to the threat of infection as an immunocompetent organ.
There are several factors combined that set the stage for the development of acne and a localized inflammatory response, which are: the clogging of the follicular pores by desquamated keratinocytes and other debris, the formation of comedones, the excessive excessive Propionibacterium acnes and leukocyte infiltration.
Indications for the use of Vitacid (Tretinoin)
Vitacid is usually indicated for topical use in adults and patients over 12 years of age. It is prescribed for the treatment of acne vulgaris, mainly mild or grade I acne, where blackheads and pimples predominate, in the form of papules and pustules. However, it is also indicated to treat fine lines and blemishes on the facial skin caused by photoaging.
Vitacid has tretinoin in its composition, a vitamin A substance, which helps to regulate the growth and differentiation of epithelial cells, in addition to having anti-inflammatory effects.
Tretinoin Efficacy
Tretinoin's effectiveness as an acne medication is due to its ability to modify abnormal follicular formation resulting from excessive keratinization of epithelial cells. It is an important comedolytic, playing a central role in acne therapy by helping to reduce visible lesions and inhibiting the development of microcomedones and new acne lesions.
This component acts by normalizing desquamation, reducing the proliferation of keratinocytes and promoting differentiation. Furthermore, it blocks several inflammatory pathways that are activated in acne, such as Toll-like receptors, leukocyte migration and the AP-1 pathway. Blocking these pathways reduces the release of inflammatory cytokines and nitric oxide, which helps to inhibit cellular inflammation.
Studies have shown that tretinoin also works on secondary acne lesions, including scarring and pigmentation. For example, in cases of hyperpigmentation, tretinoin helps to lighten hyperpigmented lesions by inhibiting the transfer of melanosomes to keratinocytes and reducing epidermal pigmentation by accelerating epidermal turnover.
How should Vitacid be used?
Vitacid should only be applied on the skin, never orally. Before application, it is important to carefully wash and dry the affected areas at night, preferably before going to bed.
The patient should apply a thin layer of the medicine, massaging lightly in circular motions. Waking up in the morning, it is necessary to gently wash the areas on which the product was applied, dry with a clean towel, but without rubbing.
When does Tretinoin start to work?
The drug's therapeutic action begins to be observed after the second or third week of treatment, becoming more evident after the fifth week. Even after obtaining satisfactory results, it is necessary to continue the treatment with less frequent applications.
How long should I apply?
The frequency of applications should only be defined by the doctor, as it may vary according to the patient, depending on the tolerance of each skin type. The product should not be used excessively, but only a small amount in each application.
Excess application will not guarantee faster and more effective effects. In fact, it can irritate the skin, causing discomfort, redness and even peeling. If this happens, it is recommended to use a moisturizer as needed, use Vitacid less frequently, or suspend treatment for a few days.
Other acne treatment measures
Having good hygiene is important during treatment. Hands must be washed before and after application. Furthermore, the product should not be used on irritated areas of the skin, such as scratches, cuts or sunburns.
You must follow all the doctor's instructions, respecting the times, doses and duration of treatment. Avoid stopping acne treatment with this medication without your doctor's knowledge.
While tretinoin may be the only prescription in an acne treatment plan, dermatologists can combine it with other topical or oral medications to increase the effectiveness of the treatment. Some of these topical products include those with antimicrobial properties like benzoyl peroxide and dapsone. Azelaic acid and salicylic acid can also be used in combination with Vitacid.
Contraindications and precautions when using Vitacid
Vitacid gel cannot be used by patients who are allergic to tretinoin or the other components of the formula. It is also contraindicated for pregnant and lactating women without medical advice.
Before starting treatment for acne with Vitacid, the doctor usually seeks to know some information, such as, for example, if the patient has a family history of skin cancer, because if so, there will be a greater risk of sunburn when undergoing treatment with Vitacid. the product.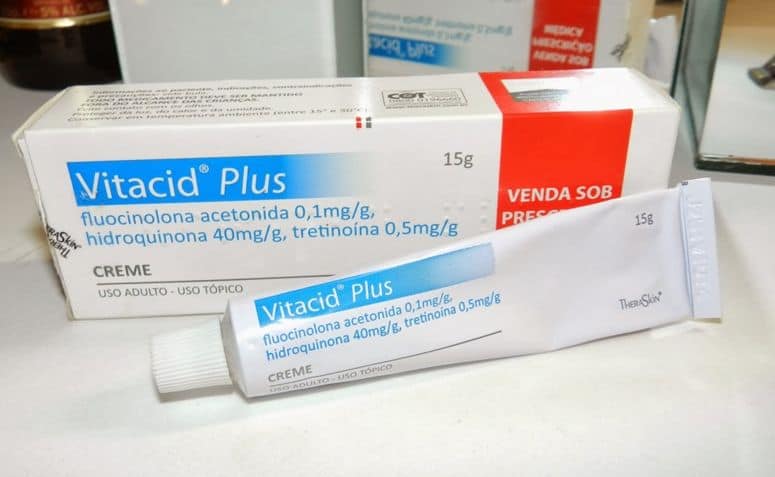 The drug may cause irritation in cases of eczema or dermatitis, rosacea or perioral dermatitis. Keep Vitacid away from areas such as the lips, mouth, eyes or inside the nose.
Treatment with Vitacid should not be performed if you have recently had cosmetic treatments such as waxing, peeling, dermabrasion or laser skin treatment. It is also necessary to avoid exposure to ultraviolet light lamps, which are common in tanning beds.
Generally, most patients experience some redness and scaling of the skin within the first few weeks of treatment. However, if the skin becomes irritated, you can use a moisturizer or reduce the frequency of application of the product. During treatment, you cannot use skin products that contain alcohol, spices or lemon, as they irritate the skin even more if combined with Vitacid.
Importance of acne treatment
It is important for the clinician to encourage patients to optimize their skin care practices so that they will benefit from receiving recommendations for appropriate cleansing and moisturizing products. Adopting good skin care helps prepare the stratum corneum for topical therapies in many ways, from reducing skin irritation and improving hydration, to maintaining the correct pH balance.
Therefore, talk to your dermatologist and clarify all your doubts when starting acne treatment, thus ensuring safe and effective results.
References:
LEYDEN, J. et al. Why Topical Retinoids Are Mainstay of Therapy for Acne. Dermatology and Therapyv. 7, n. 3, p. 293-304. 2017.
LUKAS, E. Your Complete Guide to Using Tretinoin for Acne. inStyle. 2022. Available at: https://www.instyle.com/beauty/skin/tretinoin-for-acne
SCHMIDT, N.; GANS, E. H. Tretinoin: A Review of Its Anti-inflammatory Properties in the Treatment of Acne. The Journal of Clinical and Aesthetic Dermatologyv. 4, n. 11, p. 22-29. 2011.
VITACID: gel. [Bula]. São Paulo: Theraskin Farmacêutica LTDA, 2015.
YOHAM, AL; MARRIED, D. Tretinoin. National Library of Medicine. StatPearls. Last update: 27 Mar. 2022.
Source: blogdasaude.com.br