Online dating is a fashionable trend in recent years. Dozens of sites and applications offer to quickly find your love, start a romantic relationship or make friends. Psychotherapist, sexologist, member of the All-Russian Professional Psychotherapeutic League Aleksey Vilkov told aif.ru how unsafe virtual dating can be.
What are the disadvantages of online dating?
The expert identified six main disadvantages associated with online dating. They apply to both men and women.
scammers
According to the expert, the most dangerous minus is the presence on the Internet of many scammers who pursue their own selfish goals.
"There is a risk of getting into a meeting with scammers, which can cause not only material but also moral harm, including the risk of psychological trauma. Therefore, you must always be on the alert, "said the psychotherapist.
Problems with reciprocity
The next problem is that it is very difficult to find reciprocity when meeting on the Internet.
"The probability of a general mutual sympathy is very small. Although, of course, there is always a chance, "Vilkov specified.
False Information
On the Internet, users can publish false information about themselves. Some in order to embellish their image, others deliberately hide behind fake pages.
"False, distorted or incomplete information about a person is common on the Web. Men and women can embellish data about themselves, about their social status and even appearance. All this can cause disappointment in communication, and even more so in a personal meeting, "said Vilkov.
Idealization of the interlocutor
Another disadvantage is a certain idealization of your virtual interlocutor.
"When we communicate virtually, without seeing a person live, we independently complete his image in our head. And of course, we idealize a partner, which often leads to disappointment in a real meeting. According to statistics, 70-80% of our expectations are not justified," Alexey Vilkov added.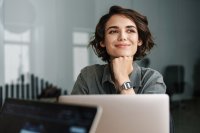 Goal Mismatch
The next minus is due to the fact that many people are looking for easy and frivolous relationships on the Internet, for fun.
"Therefore, often the goals may not coincide, although initially according to the questionnaires, according to the requests, there may be quite good goals. This also needs to be taken into account, "the expert noted.
Dangerous people
We should not forget that people who are not quite healthy can register on dating sites and applications.
"On the Internet there are a large number of people with unstable mentality, including those with mental disorders. Therefore, this can also have a negative effect in a personal meeting, "said Vilkov.
To minimize the risks of meeting with inadequate people, Vilkov says, it is necessary to collect as much information as possible about the interlocutor (ask him about education, work, hobbies, hobbies, pay attention to the manner of communication). It would not be superfluous to hear his voice, for example, before a meeting, call on the phone or talk via video link. Thus, you can make a general impression of a person and go to a live meeting with great confidence.
Source: aif.ru