Anastasia Kostenko – mother of many children and wife of a football player Dmitry Tarasov — admitted that she was expecting her fourth child.
And while her husband writes joyful posts on social networks, subscribers are indignant: after all, just two years ago she gave birth to a son, and recently had her breasts enlarged.
Plastic surgery cost the family two million rubles. For the operation, Anastasia had to fly to Dubai. The girl was pleased: her breasts were restored to their original state – before she gave birth to three children.
How will Kostenko's reshaped body survive pregnancy? aif.ru answers questions plastic surgeon Artur Dzotsoev.
We'll have to redo it
"Sometimes it happens that pregnancy occurs soon after breast augmentation. Implants typically require one to three months to stabilize, and the pregnancy lasts 9 months. Therefore, pregnancy will not lead to complications of breast enlargement. The implants themselves will also not affect the course of pregnancy, since studies have been conducted to prove their safety," explains the expert.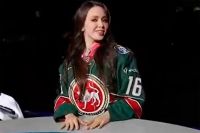 According to the doctor, the body is more affected by the drugs prescribed during or after surgery, and not by the implants themselves. Another thing is that after the birth of a child, a girl may have to undergo repeat mammoplasty. After all, both pregnancy and breastfeeding will one way or another affect sagging skin – something that the girl avoided with the help of a doctor.
"The final aesthetic result after childbirth and breastfeeding will be different, correction may be required – this depends on individual characteristics," explains the doctor.
What if you sutured your stomach?
Often, after giving birth, women of different incomes go under the surgeon's knife to have diastasis repaired – a stretch of the abdominal muscles, in which a space appears inside that can accommodate a fist. What happens if you get pregnant after such an operation?
"The diastasis stitch itself does not affect pregnancy. Most often, during the process of abdominal growth, the sutured area does not stretch, but the muscles and skin stretch," explains the doctor.
Therefore, the expert is sure that sutured diastasis of pregnancy is not a hindrance, but the next tummy tuck (abdominoplasty) after childbirth will be more difficult and less effective, explains Dzotsoev.
Source: aif.ru