If you are not familiar with the powerful tea tree oil, you may be overlooking the benefits of an extremely effective substance in the treatment of infections and acne!
The medicinal properties of this substance have been exploited for centuries to improve the condition of the skin and fight bacteria, fungi and even viruses, consolidating its growing popularity in the world of cosmetics.
Although there is no consensus on all the positive implications of tea tree oil, scientific studies indicate its antimicrobial, antibacterial and antifungal action.
Before starting to use it, it is important to understand the features of tea tree oil, to check if it is susceptible to allergic reactions or contraindications according to your skin type.
Explore more about how this oil works and the benefits it can bring to your skin care routine!
Tea tree oil: What is it and where does it come from?
Tea tree oil is a compound extracted from the plant Melaleuca alternifolia, also known as the tea tree. This oil stands out for its medicinal properties, resulting from the presence of antiseptic compounds useful in the treatment of infections.
The tea tree, as it is known, flourishes in marshy areas and is already cultivated today in Europe, Asia and South America. This bush produces an oil with a distinct aroma, rich in organic components that give it its powerful effectiveness.
Currently, this oil is incorporated into medicine and cosmetics formulas as an active ingredient, and can also be marketed in its concentrated form.
Main Components of Tea Tree Oil
Among the main components of tea tree oil, we find terpinen-4-ol, a phenol that acts in cleaning, purification, stimulation, toning and anesthesia, fighting bacteria and viruses. There is also a-terpineol, a monoterpene alcohol with anti-inflammatory and antioxidant actions.
Possibilities of Use
Discover here the seven most frequent uses and benefits of Melaleuca oil.
Natural Deodorant: Being an eco-friendly alternative and non-irritating to the skin, Tea Tree Oil works as an effective deodorant. It contains antibacterial properties that control body odor generated by sweat interacting with skin bacteria.
Hand Sanitizer: This oil has been shown to be excellent at killing a variety of viruses and bacteria, including those that cause E.coli and pneumonia. Carrying a homemade tea tree oil-based hand sanitizer with you is a more natural option compared to commercially available chemical products.
Insect repellent: Tea tree oil is more effective at repelling mosquitoes than DEET, a common ingredient in many mosquito repellents. This ability makes this oil a pleasant and safe alternative to prevent insect bites.
Antiseptic for Wounds and Scratches: Tea tree oil plays an important role in preventing infections. When applied to cuts or scrapes, it helps fight bacteria and disinfect the area, preventing further complications.
Natural Mouthwash: Unlike conventional mouthwashes, which often contain alcohol or strong chemicals, Melaleuca oil is a natural and effective option in the fight against bacteria that cause bad breath and tooth decay.
Hair and Scalp Treatment: This oil is a super ingredient for maintaining a healthy scalp as it helps reduce dandruff, promote shine and encourage hair growth.
Chemical Free Cleaner: Tea tree oil can be used as an all-purpose cleaner, effective in disinfecting surfaces and removing mildew.
Uses of tea tree oil
If you are wondering about the functionality of tea tree oil, it is important to know that this compound has anti-inflammatory and antiseptic properties, being perfect for disinfecting wounds and helping to treat acne.
Since this skin condition arises from cell infections, the use of products with this oil in their composition facilitates the treatment of inflammation and the elimination of all harmful agents present in the area.
In addition, it is a powerful antibacterial and antifungal agent, and can be used to solve skin and nail problems.
Tea tree oil benefits for skin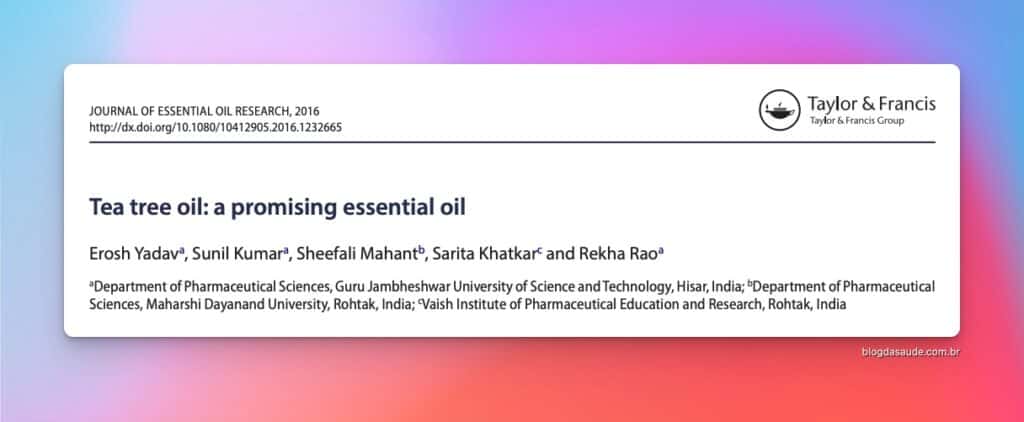 By understanding the functionalities of tea tree oil, you can enjoy benefits such as improving skin condition, treating acne and fighting facial bacteria responsible for the appearance of pimples and blackheads.
Its application also prevents the proliferation of fungi and viruses in the dilated pores, providing a healthier face and less prone to skin conditions, such as dermatoses.
In everyday life, it contributes to reducing redness and skin irritation, giving the skin a more radiant and dry appearance, even fighting the oiliness of acne-prone skin.
How to integrate tea tree oil into your skincare routine?
Normally, tea tree oil can be combined with other cosmetics, being part of the formula of soaps, creams and moisturizers used in everyday life.
In addition, it can be applied in a concentrated way on the inflamed area or on the pimple, through a gentle massage for a few minutes. This application is recommended 1 to 2 times a day.
Contraindications and Precautions with Tea Tree Oil
It is important to highlight that tea tree oil should not be consumed orally, as it is toxic and can trigger severe intoxication.
As with any substance, the use of tea tree oil requires precautions. It can cause dermatitis or other allergic reactions, especially if used without guidance. It is recommended to dilute tea tree oil with other lotions, oils, or even water rather than applying it directly to the skin, which can result in irritation or dryness.
People with sensitive skin may experience irritation when using the 100% pure and concentrated formula excessively. It is recommended to dilute the oil or opt for dermocosmetic products with the appropriate concentration.
Tea Tree Oil in Pregnancy
The use of tea tree oil during the first trimester of pregnancy is contraindicated, as there are no studies that guarantee its safety during this period. Storage time, exposure to light, heat, and humidity are factors that can alter its composition.
Therefore, it is important to keep it away from direct sunlight and high temperatures.
Restorative Properties of Melaleuca for the Skin
Tea tree is recognized for its anti-inflammatory qualities, which gives it a key role in healing wounds, relieving burns and improving marks or blemishes.
If your goal is to minimize the visible effects of acne, consider adding up to four drops of tea tree oil to your regular face wash.
Hydration and Skin Care Using Melaleuca
For effective hydration, it is possible to formulate compositions with other oils, or simply add two drops of tea tree oil to the moisturizer you already use daily. Additionally, tea tree is effective in the treatment of insect bites and is a component of specific creams, demonstrating efficacy in the care of folliculitis, ingrown hairs, and candidiasis.
For a sitz bath with antifungal properties, just dilute five drops of tea tree oil in up to two liters of warm water.
Melaleuca in the Treatment of Dermatological Conditions
Melaleuca is also useful in the management of dandruff, psoriasis and seborrheic dermatitis, collaborating in the removal of scales present on the scalp.
You can add up to three drops of tea tree oil to a shampoo suitable for seborrheic dermatitis or apply it directly to the affected areas, letting it act for three to five minutes before washing.
Melaleuca oil also contributes to the control of hair oiliness and is already used in shampoo and conditioner brands.
Nail Strengthening with Melaleuca
Thanks to its antiseptic effect, tea tree oil manages to restrict the proliferation of bacteria and fungi in the nails, strengthening them and keeping the cuticles in good condition.
Clinical studies indicate the use of oil by podiatry professionals in the treatment of onychomycosis.
Melaleuca as a Natural Deodorant
Due to its antimicrobial and anti-inflammatory properties, the oil can also be used as a deodorant. It is recommended to add two drops of tea tree oil to 100 ml of water and combine it with the same amount of milk of magnesia.
This product, made with natural ingredients, free of preservatives and parabens, generally does not cause skin irritation unless applied excessively.
Where to find tea tree oil
Tea tree oil and its variations can be purchased in many stores specializing in natural products, high quality cosmetics and even on the websites of prestigious brands on the internet.
Source: blogdasaude.com.br